Motorola Droid
How to set up your e-mail account on an Motorola Android from from Verizon wireless
Step 1:
From the home screen, open the Applications Tray, and then touch Email.
Step 2:
Enter your Email address and Password then select Next.
Step 3:
Enter a name for your account, the name to be displayed on outgoing messages then select Done. Your account is setup and your Inbox will be displayed. If prompted for type of account go to Step 4.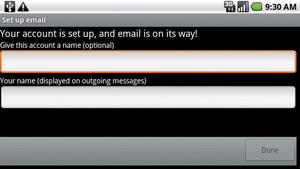 Step 4:
Select the type of email account. (Our server supports both POP3 and IMAP accounts)
Step 5
Enter your Incoming Server Settings. Then select Next.

Username: Should be your full e-mail address ex. you@yourdomain.com
Password: The password you setup for the above e-mail address.
Incoming Server (POP3 or IMAP): mail.yourdomain.com
Port: 110
Step 6
Enter the Outgoing Server Settings. Then select Next.

SMTP Server: mail.yourdomain.com
Port: 26
Security Type: None

Require sign-in: Checked
Step 7
Configure the desired account options, select Next. Return to Step 3.